Safety Overview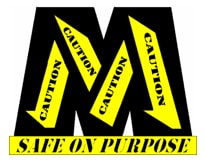 At Middleton & Meads, we believe in being "Safe on Purpose". "Safe of Purpose" means that the Management and Technicians at Middleton & Meads believe in taking a proactive approach towards their own safety, and the safety of their fellow employees. It is important to the Management team that we keep our employees safe whenever they are at Middleton & Meads. The following is a list of the key components of our Safety Program:
A Safety Committee made up of employees that represent each of our locations. The Safety Committee meets once a month to review recent injuries and discuss shop safety issues.
A Safety Oversight Committee made up of the senior leadership of Middleton & Meads that provides oversight and guidance to the Safety Committee.
A Safety Manual made up of 33 chapters that serves as a safety reference for employees.
A Safety Training Program containing 26 different training modules. Every other Thursday, a safety committee person meets with their employees and they complete that week's scheduled module. The modules are made up of material found in the JJ Keller Safety Handbook, safety presentations from Business & Legal Reports, and materials provided by our worker's compensation insurance carrier.
A policy requiring that any employee that injures themselves while at Middleton & Meads, complete a drug and alcohol test immediately after being released from medical care.
All technicians and employees that work in the shop area must wear steel toe shoes. Middleton & Meads provides a voucher to employees to pay for the steel toe shoes.
Safety posters posted throughout our locations that help remind the employees to be safe.
Eye Wash stations located throughout our locations.
First Aid boxes at each location.
Annual inspections of our locations by our insurance company.