Technology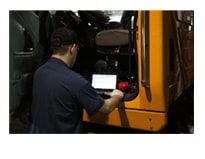 Middleton & Meads prides itself on being at the forefront of the vehicle repair technology wave. As vehicles become more reliant on technology to maximize their efficiency, Middleton & Meads has embraced technology as a way to maximize the success of repairs. Below are some examples of how Middleton & Meads uses technology to create the best possible customer experience:
As an independent repair facility, up to date computer diagnostics can be an issue. We've solved that problem by partnering with TEXA Universal Diagnostic Software. "Vehicle diagnostics is TEXA's core business. To keep ahead of the competition, TEXA is committed to offering its customers the best possible coverage of truck vehicles". TEXA covers TRUCKS, BUSES, TRAILERS, and MOST POWERTRAINS. This software allows us to accurately interface with your vehicles computer controls. Download our TEXA line card.
A wide assortment of diagnostic software and hardware, that allow Middleton & Meads to interface directly with any vehicle and identify current problems as well as indicators of possible future problems. Identifying key problem indicators early will help prevent future costly breakdowns. From engines to A/C systems, Middleton & Meads has the technology that can diagnose most problems found on a customer's vehicle.
The VIS-Check system which measures brake condition, steering, and suspension systems. Middleton & Meads uses the VIS-Check system to produce detailed reports and graphs providing clear documentation of issues and their resolution. A VIS-Check inspection is a great way to quickly and inexpensively improve a vehicle's operating efficiency by: determining brake performance issues, increasing brake lining life, increasing brake drum life, improving fuel economy, improving vehicle safety, improving vehicle utilization, and lowering operating costs.
Middleton & Meads offers a state of the art Fleet Management System to help maintain our customer's fleets. Using the Fleet Management System, Middleton & Meads can customize a plan to minimize costly breakdowns. From cost reports to scheduling notifications, the Middleton & Meads Fleet Management System can help track a vehicle's maintenance history as well as the costs to maintain the entire fleet.
An advanced paint mixing system that allows Middleton & Meads to ensure the perfect color the first time, every time. When painting a vehicle it is paramount that the color matches the customer's expectations, so by using our mixing system we can ensure that the color Middleton & Meads paints matches the paint code desired by the customer.
The Hunter Alignment Systems in our Baltimore and Beltsville shops can diagnose problems with a vehicle's caster, camber, and toe so that the correct adjustments can be made to the vehicle. Having a correctly adjusted alignment can help improve fuel economy and life expectancy of a vehicle's tires. The system also provides detailed documentation of alignment issues and their adjustments.
In addition to the examples above, technology is at work in every bay of every Middleton & Meads shop, every day. Middleton & Meads is committed to utilizing any and all available technological advances to ensure our customer's vehicles are on the road and in business.